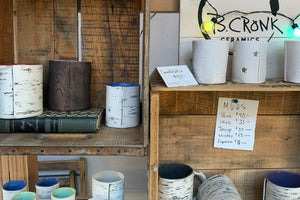 This coming weekend, The Farmhouse Project Holiday Market at Senate Garage in Kingston, NY will be my last market of the year and will mark my 18th market of 2022. After the weekend, I'll take some time off, but will also reflect on what I want to do differently next year. Every market and event is different, with some being better than others. I've already started thinking about what I consider a successful market, and it doesn't all come down to money. First, I think about how I feel during the event. If other artists are excited to be there,...
---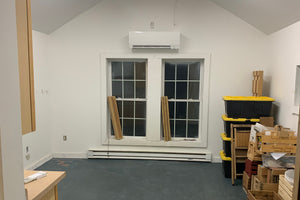 Last week I did it, I called Alpine Kilns and ordered a larger kiln. I'm a ConeArt devotee, and I'm going from 3.3 cubic feet of kiln space to 7 cubic feet. When I first posted about wanting a larger kiln, I received a few messages asking if I'd consider selling my current kiln. Here's the thing...my current kiln isn't going anywhere. It's staying in my tiny home studio and will still get plenty of use. The new kiln is going to my new studio! I've been putting off sharing the news, but as of last week, I officially signed...
---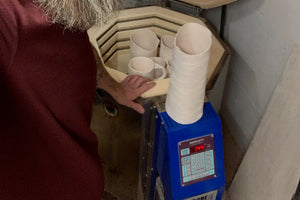 My head is swimming with information about voltage, amps, phases, elements, and cubic feet. For the past couple months I have been researching kilns and trying to determine the best size for an upgrade. Since 2016, I've been running my work through a 3.3 cubic feet kiln. The kiln at its widest point is just under 18". While it is limiting, it has served me well and is fairly easy to load. I am about to run my 400th firing this week. As I've gotten busier, a larger kiln seems like a worthwhile and needed investment. And an investment it...
---
A question I get asked a lot is how long does it take to make a mug and my response is usually to ask if they mean active time or from start to finished mug. Active time for a single mug might be 15min, but from start to finish is closer to 3-4 weeks. So I thought I'd take a moment to explain what goes into making a mug, vase, or any other piece of my pottery. I'll start after I have the clay and glaze on hand, but just to let you know, due to where I live, I...
---
Listen...I'm human and occasionally get jealous. Jealousy is a natural emotion, though in my opinion not a particularly productive one. For me, I've noticed it surfaces when I feel as if I'm not doing enough or living up to my full potential. It can be triggered by seeing what other artists are doing on social media, reading an article of featured makers, or attending an event I may have not gotten accepted into myself. Seeing the successes of others can somehow get flipped to feeling inadequate. No matter how much you tell yourself the feelings are ridiculous, they are there,...